Learn our best practices for handling under insured calls. For Customer Service: Call (425) 658-9008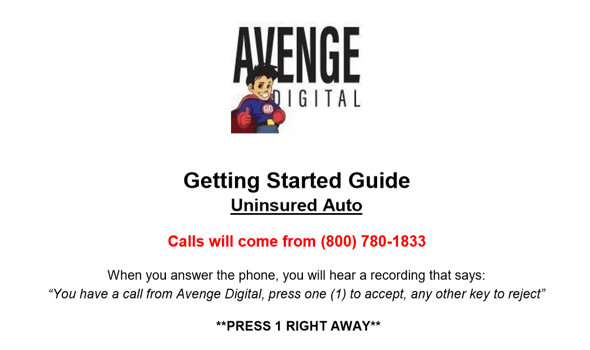 Once you connect, you have 90 seconds to qualify or disqualify your caller!
Please ask these qualifying questions before asking for name, address, or anything else:
Are you ready for your aut0 quote in (your state)?
Are you currently insured? If so, who is your current insurance provider?
Do you have a valid drivers' license and car?
We suggest asking some follow up questions, to further qualify the caller:
Have you had a DUI in the last 5 years?
Do you require SR-22?
If you choose to move forward with quoting, the call will be considered valid.
Reasons to end a call:
If they are NOT looking for a quote, politely end the call immediately. If they do not have a valid driver's license or car, please end the call.
In the event the caller is not quotable due to DUI/SR22, end the call as we will accept those calls for credit.
If the caller is unable to answer the qualifying questions, or is unable to provide the information needed for you to quote them, you may end the call.
*Pricing is not a valid reason to end the call
In order to avoid being charged, the call must be disconnected in under 90 seconds.
Calls over 90 seconds are valid and non-refundable.
**If agents get the consumer's phone number and disconnect, the call will be billed to you**