Learn best practices when working with Final Expense Calls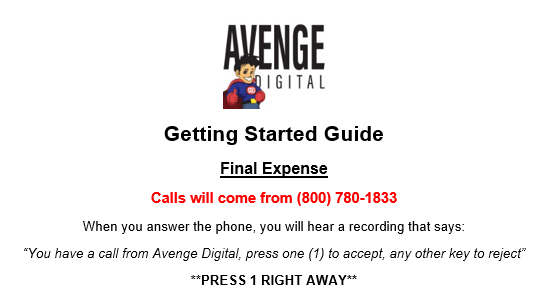 Please ask these qualifying questions before asking for name, address, or anything else:
Are you calling for a guaranteed issue or Final Expense/Guaranteed Issue quote today?
What is your age?


Callers should be between the age of 55-85 and looking for a guaranteed issue/final expense insurance quote.
*If the caller is not looking for guaranteed issue or final expense insurance, politely end the call and submit for credit.
Reasons to end a call:
If they are NOT looking for a quote, politely end the call immediately.
If the caller is outside the age range
If the caller is unable to answer the qualifying questions, or is unable to provide the information needed for you to quote them, you may end the call.
*Pricing is not a valid reason to end the call
In order to avoid being charged, the call must be disconnected in under 2 minutes.
Calls over 2 minutes are valid and non-refundable.
**If agents get the consumer's phone number and disconnect, the call will be billed to you**