Learn best practices when working with under-insured auto calls. For Customer Service: Call (425) 658-9008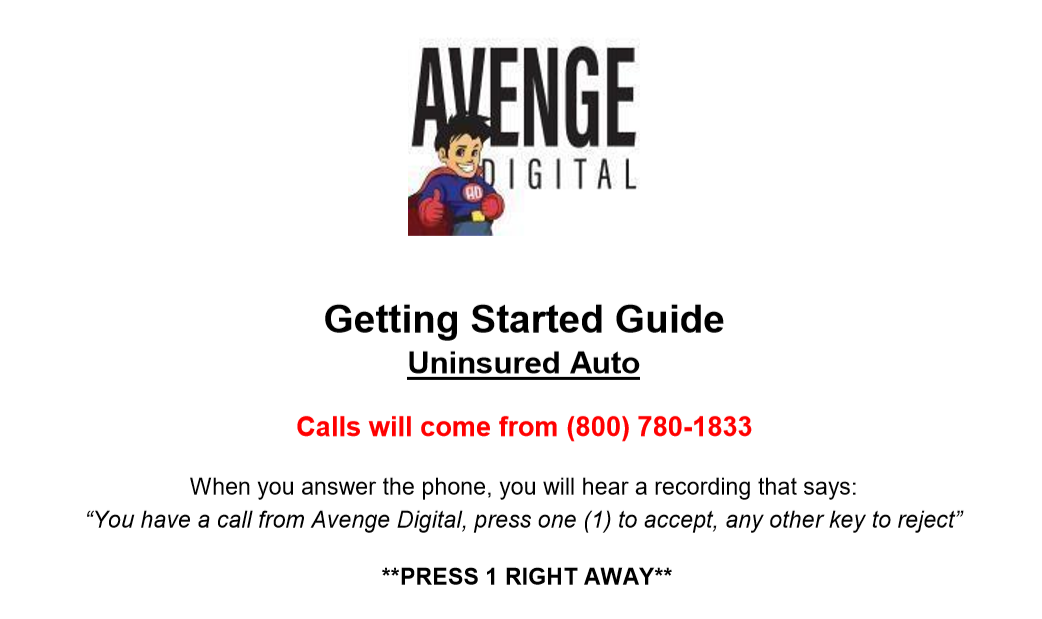 Please ask these qualifying questions before asking for name, address, or anything else:
Are you ready for your auto quote in (your state)?
Are you currently insured? If so, who is your current insurance provider and how long have you been insured?
Do you have a valid drivers' license and car?
We suggest asking some follow up questions, to further qualify the caller:
Have you had a DUI in the last 5 years?
Do you require SR-22?
If you choose to move forward with quoting, the call will be considered valid.
Reasons to end a call:
If they are NOT looking for a quote, politely end the call immediately. If they do not have a valid driver's license or car, please end the call.
If the caller has been insured for 1 year or more.
In the event the caller is not quotable due to DUI/SR22, end the call as we will accept those calls for credit.
If the caller is unable to answer the qualifying questions, or is unable to provide the information needed for you to quote them, you may end the call.
Calls under 2 minutes are eligible for 100% credit.
Calls between 2-8 minutes are eligible for 50% credit. You have 72 hours from receiving the call to request credit.
You must request credit for all calls, even calls under two minutes!
For calls to be eligible for credit, the qualifying questions must be asked at the beginning of every call. Please ask these questions before name, address, or anything else.
Dropped/Disconnected calls
A call can only be submitted for being "Disconnected and Unable to Reach Back" after 24 hours, as the consumers phone number is provided in your dashboard. Please try to reach them back, as many times we have heard from clients that they often close a policy from a call back two to three days later!
If you send a dropped call in for credit without a follow up of what happened, it is subject to being rejected.
If a call drop or disconnection issue is persistent, please contact us immediately.
Reasons Credit Requests Could be Denied:
The caller was quoted. If an agent provides the consumer with a price they would pay for the month, every 6 months or year on a call, we would consider the call valid and ineligible for credit.
There are no notes for a disconnected call. We take the agent's word for it that they tried calling the consumer back for any disconnected calls, but without the notes, we don't know what happened and may deny credit.
The call is ended due to price. The purpose of our service is to provide agents with inbound calls where consumers are looking for quotes, giving the agents the opportunity to sell their product(s) to the caller.
The agent gets the caller's phone number and disconnects.